On Monday November 17, 2008 Brenda Melton, a biologist from the Steinhart aquarium, trained us on handling reptiles.  This training was very important because we will be handling reptiles when we are teaching and we need to make sure that we are handling the reptiles properly so that no one gets injured.  We had the opportunity to handle a pine snake, ball python snake and a blue-tongue skink.  Of course there is always a chance of getting bitten, but if the risk can be prevented, then it is up to us to prevent the accident from happening.

Some of the main rules for handling reptiles are:
•    Keep good hygiene when handling any reptiles so always try to wash your hands with soap and water or use hand sanitizer.
•    Be calm and relaxed.  If you don't feel comfortable handling the reptile, then it's probably not a good idea for you to handle the reptile that day or until you feel comfortable because the reptile in which you are handling can sense if you are nervous.
•    Check that the reptile itself is calm and/or relaxed.  By making sure that the reptile is relaxed, you reduce the chance of getting bitten.
•    when you are handling reptiles for the public, you want to make sure that you have the head facing away from the public.
•    You also want to make sure that you are supporting the majority of the reptile's weight because you can cause some serious injuries to the spine.

Brenda taught us that when you are handling reptiles you should always keep in mind that you have the risk of getting diseases like salmonella.  Salmonella is a type of bacteria that passes from the feces of people or animals to other people or animals.  This is why it is important to wash your hands. Of course not all reptiles carry salmonella, but we treat them as if they all had this disease because it's better to be safe than sorry. Knowing how to keep good hygiene to prevent salmonella contamination and knowing how to keep people and the reptiles safe, is very important so that everyone has a good experience.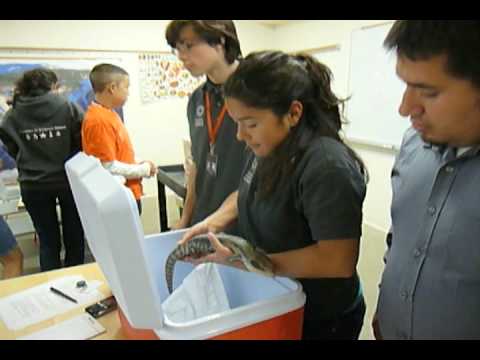 Handling reptiles properly is a very important skill for us, especially when we are teaching in after school programs and on the floor.